Dying husband Chris Price's 'magical' six months with wife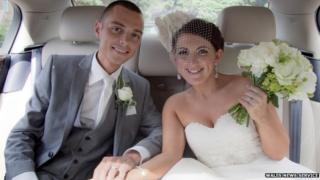 A man proposed to his girlfriend when he was told he had six months to live and spent the rest of his days making his bride's dreams come true.
Chris Price, 26, from Merthyr, promised to give Ceri, 29, everything she ever wished for.
After their wedding, he took her and her four children to Disneyland Paris and later they went to New York.
They shared the most "magical" time, said Ceri, adding she would savour the memories forever.
Chris bought his bride the designer shoes and handbag she had always wanted.
He also booked to take her to Las Vegas for her birthday, but was not able to make the trip.
'So positive'
"It was as if Chris wanted to spend his last days making me as happy as he could," she said.
"We did such a lot in those last six months. He was so positive he never talked about dying, he just wanted to see me and the children happy in the time he had left."
Ceri told how maintenance inspector Chris loved to surprise her and his four stepchildren - Halle, nine, and triplets Evan, Morgan and Georgia, six
She said: "The Disney trip was something we had talked about in the future but when Chris knew he didn't have long he booked for all of us to go.
"Then he told me he'd arranged a romantic trip for us in Dublin, but on the way to the airport he told me we were going to New York.
"He knew I had fancied a pair of Louboutin boots but they were way too expensive for me to ever afford them.
"But Chris bought them for me and got me an even more expensive Mulberry handbag."
'In the moment'
The pair had known each other as teenagers and moved in together in January 2012.
Three months later it was revealed Chris had cancer of the oesophagus and doctors later had to remove part of his stomach when the cancer spread.
He was later given the all clear, but in April 2013 scans revealed secondary cancer in his liver and lungs and he was told there was no cure but chemotherapy could prolong his life.
Chris died in Ceri's arms and his funeral was held in the church where they had married just six months earlier.
Ceri said: "If my love could have saved him, he would have lived forever. We packed so much into the short time we had together.
"His illness made him live completely in the moment and he taught me to do the same.
"He loved me and took me on with four children as if they were his own. They loved him so much too."