Storms knock out Flat Holm weather station web feed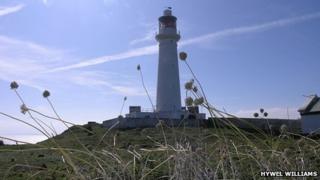 Sailors relying on data from a weather station off the south Wales coast say it has not been working since the violent winter storms.
Updates from Flat Holm island station's web site in the Bristol Channel stopped on 16 January.
Cardiff council said a maintenance crew will go to the island nature reserve when one is available.
Martyn Bromley, from Penarth Yacht Club, said: "The sooner they can fix it the better."
Coastal communities around Wales were hit by a series of devastating storms and tidal surges during January and February, with the clean-up continuing.
Mr Bromley said because the Vale of Glamorgan yacht club sits at the bottom of a cliff, Flat Holm's weather data - normally updated every three hours - helped its members prepare for conditions on the water.
He said they had noticed that the weather information web feed had stuck at 23:03 GMT on 16 January.
He said: "We use it a lot because it gives us a clear picture of the true wind. The Cardiff weather stations are all sheltered.
"If it's blowing 40 knots (45mph) at Flat Holm but only 10 knots (11 mph) here at Penarth, you know that there is some serious wind coming over the top of the cliff.
"You know what the weather will be like out on the water. We find it very useful so the sooner they can fix it the better."
Cardiff council said people who relied on the weather readings from Flat Holm were advised to use the Met Office weather station at St Athan, Vale of Glamorgan, in the meantime.
A spokesman said: "The Flat Holm facility needs maintenance given the extreme weather conditions recently. It is the high winds that has caused this.
"We're trying to sort it. When we have the correct people to do it they will be taken out to the island.
"There is an issue when there is bad weather that it can be difficult to land on Flat Holm."
Flat Holm, a nature reserve which lies five miles (8km) from Cardiff, was obtained by the council from the Crown Estate on a 50-year lease in 1995.
It was earmarked for "disposal" by Cardiff council late last year to save £150,000 from its annual running costs but councillors agreed in November to maintain the nature reserve until April 2015.