Cardiff council leader Heather Joyce stands down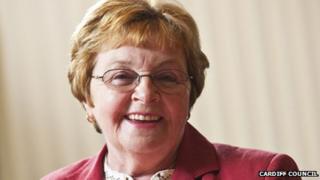 The leader of Cardiff council has announced she will be standing down due to her husband's ill health.
Heather Joyce, Labour councillor for Llanrumney, will formally resign once a new leader has been elected.
Mrs Joyce said it had been a "difficult decision" but needed to devote her time to husband Lyn.
She has led the council since Labour took power from the previous Liberal Democrat-Plaid Cymru coalition administration in 2012.
In a letter to Labour's chief whip, Chris Weaver, Mrs Joyce said: "This has been a difficult decision but, as you know, Lyn has not been well for some time and I feel that I need to devote my time to supporting him during a difficult period.
'Reluctant leader'
"In any case, I feel that I have done what the party asked me to do when I became leader of the Labour group back in 2011 and I feel that I have made my contribution as council leader such that now is the right time for me to turn my attention back towards my family and to serving the people of Llanrumney."
Mrs Joyce also paid tribute to her supporters before adding: "In truth, and as a working-class girl from Hirwaun, I have been a reluctant leader of the council.
"I certainly do not conform to the stereotype of the career politician that has come to dominate the political landscape in recent years.
"It wasn't a role that I aspired to but when the party came calling I knew that I had to step up to the plate.
"However, as those who know me will appreciate, my sole motivation in politics has been doing what is right for the city's most disadvantaged communities."
Torfaen council leader Bob Wellington, who is leader of the Wales Local Government Association said they were grateful for the "enormous" role Mrs Joyce has played both in Cardiff, and at a wider national level, over the past two years.
Former Cardiff council leader Russell Goodway, currently cabinet member for finance and economic development, has already ruled himself out of returning to the job he held from 1996 to 2004.
He told BBC Wales that there are "absolutely no circumstances whatsoever" in which he would seek to become council leader again.
Mrs Joyce survived a challenge to her leadership of the Labour group from Phil Hawkins in May last year.