Constable masterpiece goes on show at National Museum Cardiff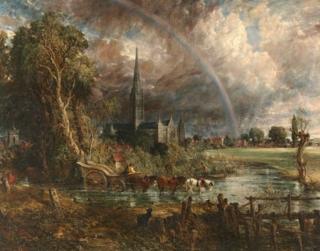 One of the masterpieces of British art is going on display at National Museum Cardiff for six months.
John Constable's landscape Salisbury Cathedral from the Meadows 1831 is said to be one of the works of which he was most proud.
Cardiff is the first stop on a UK tour and the museum said the loan will add to its existing landscapes collection.
Director general David Anderson hoped visitors would take the opportunity to see "this important painting up close".
"We are delighted to be hosting one of the great masterpieces of British art here at National Museum Cardiff," he said.
"Salisbury Cathedral from the Meadows 1831 will be a fine complement to the historic art collection during its stay here in Cardiff."
The painting will go on display alongside the museum's own work by Constable - A Cottage in a Cornfield - as well as works by Turner, Wilson and Van Gogh from the national collection.
The display will be accompanied by a series of events and learning activities in Cardiff and is part of the five-year Aspire partnership project involving five institutions supported by the Heritage Lottery Fund and the Art Fund.
The Salisbury Cathedral painting has been on view at The National Gallery in London on long-term loan since 1983 and most recently at the Tate Britain.
The painting was bought for £23.1m last May in a partnership between five national and regional galleries including National Museum Wales.
It depicts Salisbury Cathedral under both a heavy cloud and a striking arched rainbow viewed from across the River Nadder.
The scene has been interpreted as a metaphor for political pressure felt by the Church of England as well as the emotional turmoil the artist was feeling after the death of his wife.
The painting was first exhibited at the Royal Academy's Summer Exhibition in 1831 and later in a regional exhibition in Birmingham as directed by Constable, who wanted it to be viewed by as many people as possible.
Constable called it "The Great Salisbury" and wrote: "I am told I got it to look better than anything I have yet done".
The painting will be on display in Cardiff until 7 September.