Cancer support centre plan for Cardiff's Velindre site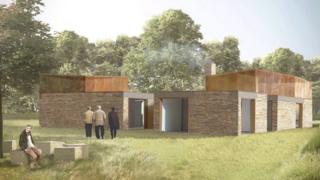 A centre to provide emotional and practical support services to people with cancer could be built in Cardiff.
The charity Maggie's wants to built a facility next to Velindre Cancer Centre in Whitchurch.
If approved, it would give patients access to nutritional workshops and psychological support, as well as stress management sessions involving activities like yoga and tai chi.
Velindre NHS Trust said it would help it become a world-class cancer campus.
Maggie's says the planned centre would significantly enhance the cancer care and support already offered by Velindre.
Patients would be able to get advice about benefits and attend relaxation classes including art therapy.
Its rooms would be built around a central courtyard and open onto a woodland garden with space to grow food.
Simon Dean, chief executive of Velindre NHS Trust, said the partnership would help it realise its vision of a "world-class cancer campus" which meets the individual needs of each patient.
"Maggie's Centres are renowned for providing cancer patients and their families with high quality, expert support services and our partnership with the charity demonstrates our shared desire to provide excellent and seamless services to patients," he added.