Lung cancer drugs trials start at Cardiff University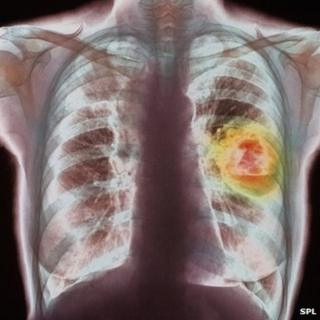 A breast cancer drug is set to be the focus of a new clinical trial for patients with lung cancer.
Experts in Cardiff want to know if the treatment can help those with the non-small cell form of the disease.
They hope to recruit 100 patients to the second phase of tests being coordinated by the Wales Cancer Trials Unit at Cardiff University.
About 42,000 people are diagnosed with lung cancer every year in the UK.
The drug being tested is called Olaparib, and is a member of a class of medicines called PARP inhibitors which target cancer cells.
It will be given to patients who have non-small cell lung cancer (NSCLC) after they undergo chemotherapy treatment.
It is thought that about half of those patients with this type of lung cancer develop a fault in the way their cells repair themselves, and it is hoped the treatment will kill off the cancer before it can grow again following chemotherapy.
'Better treatments needed'
The project is being funded by the charity Cancer Research UK and the pharmaceutical firm AstraZeneca, through the National Cancer Research Network.
Kate Law, director of clinical research at Cancer Research UK, said: "It's through research that we've seen how this PARP inhibitor could be effective in other cancers that have faults in their DNA repair mechanisms.
"We're now taking this knowledge from the lab to see if and how it can help cancer patients.
"We're increasingly seeing that drugs originally designed for one type of cancer are proving to be effective for many other types," she said.
The trial will recruit over 100 people with advanced non-small cell lung cancer at 25 hospitals around the UK.
Prof Dean Fennell, the chief investigator based at the University of Leicester, said: "We urgently need better treatments for patients with lung cancer - just 30 per cent of them survive for a year after being diagnosed.
"We hope that using this drug that was originally developed for breast cancer will slow the progression of lung cancer, improving the quality of life for our patients."