Welsh patient Mariana Robinson wants NHS treatment in England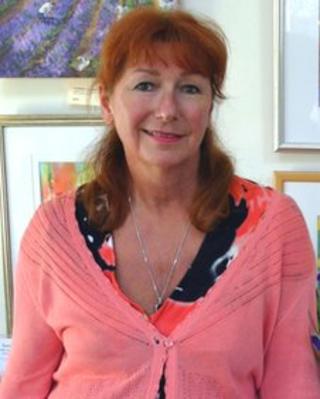 An NHS patient in Wales with a life-threatening condition has written to the UK health secretary asking to have treatment in England.
Mariana Robinson, 60, who has a rare pancreatic condition, said the wait was too long to see a consultant in Wales.
Ms Robinson, of Monmouthshire, asked Aneurin Bevan health board if she could be treated in England but was refused.
The board said requests for care outside the area were considered on a case-by-case basis.
Ms Robinson, an artist from Llandogo, has a condition where only 10% of her pancreas remains which, if it further deteriorates, could leave her with type 1 diabetes.
'Absolutely scandalous'
She said she had paid to see a consultant in Bristol who believed it was an "auto-immune issue" but could not be certain without a biopsy.
"I've spent over £3,000 already and I need a biopsy," she said.
"It's a very rare condition I've got and I'm still waiting to see a consultant in Wales.
"I'm told I'm on a waiting list [to see a gastroenterologist]. I've been on it since last October. Nobody has told me how long I will have to wait."
Ms Robinson, who has also suffered serious bowel problems, said she believed she could be seen in a matter of five to six weeks over the border in England.
"I think it's absolutely scandalous - it's not just me," she added.
"I've made waves because I'm articulate enough to send off some emails but there's hundreds if not thousands of people with different ailments."
She has now written to the UK government's Health Secretary Jeremy Hunt, saying: "The Welsh system is monolithic and bureaucratic - the patient has no say whatsoever in how, when or where they are treated.
"I'm weary of waiting and if there's anything at all you can do, it would be much appreciated."
A spokesman for Mr Hunt, whose remit does not extend to Wales, said he was aware of the issues and had huge sympathy for the problems faced, claiming there was a "growing gap" between the health services of England and Wales.
He added that in Wales, one-third of patients waited more than eight weeks for diagnostic tests compared to only 1% in England waiting more than six weeks.
The Welsh government has said the maximum wait for access to specified diagnostic tests should be eight weeks.
Figures released on Thursday showed that the number of people waiting more than eight weeks stood at 27,998 or 34% of patients.
Ms Robinson has also written to the Welsh Health Minister Mark Drakeford and her Conservative MP David Davies, who raised the issue in the House of Commons on Wednesday.
Mr Davies told MPs she was "a victim of the Labour-run NHS in Wales" which offered, he said, longer waiting lists and less access to drugs.
He said if Welsh patients wanted to be treated in England, the Welsh government should pay for them to be treated there.
Mr Davies said there should be a reciprocal arrangement to patients from England who wanted to be treated by the Welsh NHS - with the UK government picking up the tab.
Responding to a question from Mr Davies, Deputy Prime Minister Nick Clegg said he was "appalled" by the experiences of Ms Robinson.
'Painfully unaware'
A spokesman for Mr Drakeford was critical of Mr Davies's comments.
"For an MP in a border constituency, David Davies seems painfully unaware of how the NHS in England and Wales operates," said the spokesman.
"Every day, thousands of people from England are treated in Wales and vice versa. Indeed, more than 20,000 English residents are registered with Welsh GPs."
The Welsh government wants 95% of patients treated within 26 weeks of referral. A spokesperson said the figures showed the "majority of patients continued to wait less than 26 weeks, with half of patients waiting up to 11 weeks from referral to treatment".
In relation to Ms Robinson, the Welsh government said it would be "wrong to comment on individual cases".
Securing treatment
Aneurin Bevan health board said in a statement it also could not comment on individual cases due to patient confidentiality.
But it added: "A policy was established in September 2012, which relates only to routine secondary care referrals, to ensure that there are simple uniform arrangements in place to ensure the health board utilises its own services, or services established with other Welsh providers, before securing treatment with other NHS organisations.
"We also continue to have contracts with other hospitals when this is needed.
"Arrangements are in place to allow individual requests for care outside of the health board to be considered on a case-by-case basis.
"A decision to agree, or decline, treatment outside the area would only be reached following advice from clinicians expert in the particular specialism - consideration would also be given to travel and access, continuity of care, social, and non-clinical issues."