Jealous husband Kelvin Newton gets life for wife's murder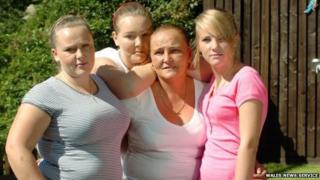 A jealous husband has been jailed for life and must serve a minimum sentence of 18 years for murdering his wife over her holiday romance.
Kelvin Newton, 45, strangled Assia Newton with a dog lead at her home in Pencoed, near Bridgend, after she asked him for a divorce.
Ms Newton, 44, fell in love with a waiter on a Mediterranean holiday.
The judge at Cardiff Crown Court said it was "murder born out of your sexual jealousy".
Ms Newton had been due to fly out to Tunisia to meet the waiter for a third holiday in two months when her husband strangled her in her bedroom with the dog lead.
On Wednesday, Recorder of Cardiff Judge Eleri Rees said: "This was murder born out of your sexual jealousy in the knowledge that she intended to leave you."
She sentenced him to life and recommended he serve a minimum of 18 years before being eligible for parole.
'Changed'
The court heard that couple's daughters told South Wales Police their father had "changed" after being told about Ms Newton's new relationship with the waiter, called Mohammed.
A statement from youngest daughter Sameera, 17, said: "Mum jokingly described herself as Shirley Valentine after her visit to Tunisia.
"Dad always got jealous whenever mum had any attention from a man and would flip out and get angry - he was controlling.
"Mum joked she was like Shirley Valentine and told dad about the waiter after the second holiday.
"He seemed to change after that and put a stop to all her money - and just paid enough to keep a roof over our heads."
The court heard Ms Newton visited Tunisia for the first time in June last year after going on holiday with her daughter, Sophia, to celebrate her 18th birthday.
But she returned to Tunisia alone two weeks later and began a long-distance relationship with daily calls to Mohammed over the internet.
She was days away from taking her third holiday when Newton killed her.
'Violent, controlling, jealous'
Eldest daughter Charmaine, 23, said her mother was "happy" someone was being kind to her after suffering decades of violence in her 23-year marriage.
"Mum came home from her first holiday in Tunisia and said the people out there were really friendly," she said.
"Mum talked to me about Mohammed everyday after the second trip.
"He would listen to her and she was just happy that someone was paying her nice attention."
Miss Newton said her father had been "violent, controlling and jealous" throughout the marriage.
She told the court her childhood had been spent hiding in her bedroom while her father smashed the house to pieces "once a month" during violent arguments.
'No friends'
Miss Newton said her mum would not normally shout back at Newton but had begun to "stand up for herself" in the months before her death.
She said: "He controlled her and didn't like her having any friends or going out anywhere.
"He was never really nice to her."
Elwen Evans QC, prosecuting, told the court Ms Newton was killed on Sunday 14 July 2013 in her bedroom.
Newton ran his own building company and was seen on CCTV driving his tipper truck to his wife's home on the Sunday afternoon.
Ms Newton was home alone when her husband arrived in a fit of rage.
The court was told Newton, who denied murder, was seen on CCTV from a neighbouring house going into the home and leaving to get a change of clothes from his truck.