Winston Churchill's Tonypandy riots memo up for auction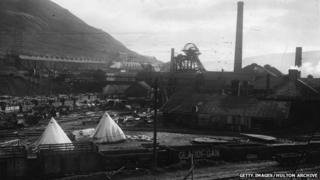 A signed memo by Winston Churchill detailing his position on the use of military force during the Tonypandy riots of 1910 is to be sold at auction.
Troops were sent onto the streets to control striking miners who wrecked town centre shops and mine-owners' property.
But a memo sent to the editor of The Daily News newspaper shows Churchill was wary of using military force.
The piece is expected to fetch up to £1,500 when it goes under the hammer.
On 1 September 1910 owners at the Ely Pit in Penygraig shut out 950 miners, after a disagreement with some workers on the expected extraction rate on the newly-created Bute coal seam.
By the start of November, the strike had spread to all 12,000 colliers employed by the owners involved in the Cambrian Combine, shutting all but one of their pits.
On 8 November a demonstration of striking Welsh miners in Tonypandy Square in Cardiff was broken up by the police using truncheons.
The chief constable of Glamorgan called for military support but Churchill delayed the request.
Instead, he sent a detachment of Metropolitan Police officers and some cavalry to Cardiff and informed rioters he was holding back the troops.
Despite Churchill's assurance, magistrates telegraphed the Home Office requesting military support.
On 9 November, a squadron of the 18th Hussars was ordered to Pontypridd to control rioting in Porth, in the Rhondda Valley.
Claims soon circulated that Churchill had authorised soldiers to use ammunition.
Churchill sent a memo to Alfred Gardiner, the editor of The Daily News refuting those allegations.
It read: "My dear Gardiner, give no credence to such rubbish.
"I do not anticipate any shooting & have taken some responsibility to that end - which Liberal newspapers should recognise/ Yours vy trly/ WS Churchill."
'Pantomime villain'
Although the memo is not dated experts at Bonhams auction house believe it was written on the evening of 9 November for it to run in the next day's newspaper.
Dr Louise Miskell, a historian at Swansea University who has written about the strike, said Churchill's handling of the riots had been misunderstood.
"He's become almost a kind of pantomime villain in parts of south Wales based on that reputation," she said.
"Interestingly though, if you look at correspondence that took place it's quite evident that Churchill was quite reluctant to deploy troops to the Valleys."
Although there is no evidence that shots were fired at Tonypandy or elsewhere, the handling of the riots was seen within the Labour movement as unnecessarily harsh.
The incident haunted Churchill for the rest of his career and many of his critics saw it as an anti-trade union stance.
This reputation was compounded the following year during a dock and railway strike when he sent troops to several parts of the country with instructions to fire if army commanders thought fit.
Two rioters were killed during an incident at Llanelli.
The memo is to be sold at Bonhams in London on 19 March.