650 new homes earmarked for Newport and Tonyrefail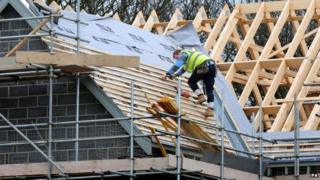 Plans to build more than 650 new homes in south Wales have been unveiled.
Over half the houses are planned for a former steelworks site at Whiteheads, Newport, with the rest earmarked for a site at Tonyrefail, Rhondda Cynon Taf.
The Welsh government said many would be affordable homes and within financial reach of young and lower income families.
But a housing group has warned there is still a desperate shortage of affordable properties.
The Welsh government said the Whiteheads development would provide up to 400 homes and is expected to deliver a £140m economic boost to the area, creating up to 1,500 jobs in the process.
There are plans for 260 homes at Eirin Park in Tonyrefail which is expected to create £85m for the local economy and create up to 800 jobs.
The Welsh government has also agreed to loan the Whiteheads Development Company £7m and the Parc Eirin Development Company £1m to help deliver the projects quickly.
Both are subsidiaries of Tai Tirion, a not-for-profit organisation created following an initial alliance between the Welsh government and the Principality Building Society to deliver affordable homes.
"Subject to planning permission these two new projects are anticipated to create around 2,300 jobs and deliver an economic benefit in the region of £225m to the local economies," said Economy Minister Edwina Hart.
"These are significant figures that will support job creation in the construction industry as well as businesses within the supply chain.
"They will also help transform brownfield sites into thriving communities and provide affordable homes in places where people want to live which are within the financial reach of young families and lower income families."
'Neglected land'
The Whiteheads and Eirin Park developments are the latest additions to the Tai Tirion portfolio which also contains The Mill, a £100m affordable housing development on the site of an old paper mill in Cardiff.
Chief executive David Ward said: "We are committed to developing real urban communities on sites across the country - transforming disused and neglected land into thriving neighbourhoods."
About 90,000 households were on waiting lists for council or social housing last March, according to Shelter Cymru.
Nick Bennett, group chief executive of Community Housing Cymru, said: "We welcome news of the house building plans.
"We are committed to working in innovative ways to increase the number of affordable homes in Wales and we are about to sign a pact with the Welsh government to increase the number of affordable homes.
"There is still a desperate shortage of affordable homes but the Welsh government and Carl Sargeant (the Housing Minister) understand that."
In January, a £170m Help to Buy scheme came into force which aims to help people afford new-build properties.
Buyers of new-build homes under £300,000, who have a 5% deposit, can apply for a loan of up to 20% of the property's value.