Solar farm to help electricity targets in Caerphilly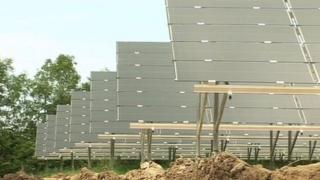 Plans for a large solar farm which will make a "significant contribution" to Caerphilly county's renewable energy targets, have been passed by planners.
Rows of up to 57,408 panels will be constructed over eight fields at Hendai Farm, near Gelligaer in Hengoed.
The solar farm measuring 28.7 hectares (70 acres) will generate enough electricity to power up to 3,700 homes.
It will operate for 35 years when the land will be reinstated for agriculture use.
A report to Caerphilly council's planning committee said the development would be a positive contribution to local sustainability, on land not considered to have the best agricultural value.
This outweighs any "limited" harm it would cause to the natural characteristics of the open countryside, it said.
The report adds the Hendai Solar Farm will make a significant contribution to the Caerphilly, UK and EU renewable electricity targets.
The site operator Solar Securities Group Ltd plans to set up a community benefit fund, which could see up to £41,400 generated from the site donated to Gelligaer Community Council.
The scheme was passed by planners at a meeting on Wednesday.