Grass fires cost South Wales Fire Service £850,000 so far this year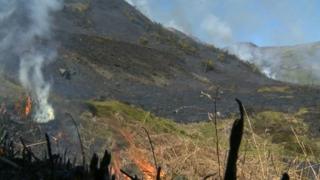 Fighting grass fires in south Wales has cost £850,000 so far this year and at least 90% were started deliberately, claim fire chiefs.
Crews were called to several incidents over the weekend in Rhondda Cynon Taf and this week is regarded one of the busiest of the year.
South Wales Fire and Rescue Service said there had been 431 grass fires in its command area so far this year.
It said a typical blaze cost it £1,970, on average.
Last month a grass fire near Merthyr Tydfil was allowed to burn amid fears over the safety of fire crews.
But they are a problem right across Wales.
Social media sites were used last year to help prevent deliberate grass fires after crews tackled around 150 incidents across Wales. North Wales fire service posted a picture on its Facebook page of a large gorse fire at Cae Bog, Holyhead.
South Wales fire service said it was not just grass being damaged but an entire landscape.
Sean Jenkins of the service's fire crime unit said: "In the last six days, we've had over 40 wild fire incidents and that's not withstanding the last couple of months where we've had a large degree of flooding across the country.
"So even though the ground is still wet and sodden we're still getting grass fires deliberately set across our communities in South Wales."