Priest training college recommended for closure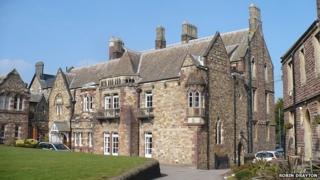 A theological college, which has been training student priests since 1892, has been recommended for closure.
St Michael's College in Llandaff is the Church in Wales' only full-time residential centre for training priests.
But a working group said training there runs at a loss and will soon be "unsustainable".
The Church in Wales said it was "business as usual" until bishops had finished consultations.
The working group published a report on the future of theological training in Church in Wales, and recommended that full-time residential training at the college ends in 2016.
Conference centre
The report says: "The training of ordinands runs at a substantial loss. It is our opinion that this will be unsustainable in the near future."
"We therefore recommend that full-time residential training ceases at St Michael's College by 2016."
"A new principal should not be appointed but careful thought should be given to managing the transition so that no-one suffers through the handover period, either students with decreasing numbers or staff with uncertainty over future provision," the report adds.
Training should instead be carried out at a more local level and the qualification should be overseen by Durham University.
The report recommends a feasibility study is carried out to see if the college could instead be used as a conference centre and library, which would "pay its own way" and become a valuable resource.
A spokeswoman for the Church in Wales any changes would not come into effect until 2016 at the earliest.
"Those already in training or about to begin training, including those undertaking undergraduate and postgraduate degrees, will not be affected," she said.