Pencoed Technology Park bought by Welsh government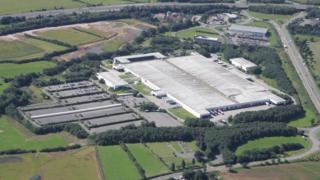 The Welsh government has bought a major business park near Bridgend in its bid to "attract new business and new jobs".
Economy Minister Edwina Hart said the £12.3m purchase of Pencoed Technology Park near Bridgend will add to the 60 acres of development land it already owns between the park and the M4.
The business park is home to technology and life science firms including Sony.
The minister said the plan is encourage more high quality companies to set up in the area.
On Monday it emerged the site of a former Hotpoint factory in Denbighshire could be bought by the Welsh government for £1.55m.
It wants to redevelop the plot in Bodelwyddan in a bid to create jobs.
Pencoed Technology Park occupies over 57 acres of land and was originally constructed for Sony in the mid 1990s as a television manufacturing facility, according to the land agents.
'High quality'
Other local employers include Invacare which manufactures and supplies mobility and home healthcare equipment and BBI Healthcare which makes women's health, energy and digestive products.
BBI Healthcare is in the process of expanding its floor space at the park.
Ms Hart said: "Pencoed Technology Park is one of the best located sites in the convergence area of west Wales and the valleys.
"Its acquisition will allow us to exploit the benefit arising from our existing adjacent landholdings where major occupiers include Sony, Ortho Clinical Diagnostics and BBI healthcare.
"Our intention is to build on the existing concentration of high quality life science and manufacturing companies and attract new business and new jobs to the area."