Cwmbran veterans' Green Goddess fire engine parts stolen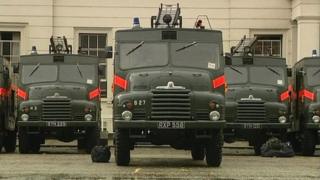 The hunt is on to find rare parts of an historical Green Goddess fire engine which were stolen by thieves.
The Green Goddess Cwmbran Veterans believe the culprits targeted the vehicle for metal to sell for scrap but it will cost them £1,000 to restore.
Thieves cut through a fence at the Territorial Army Centre in Cwmbran to carry out the theft last week.
Military and Gwent Police are investigating.
Army veteran Mike Saunders and friends bought the former Bedford truck three years ago. They have used the vehicle to help them to raise £15,000 for the Help For Heroes military charity.
The vehicle's 61 year old engine and original bells and sirens still work but its hoses will remain dry unless a replacement pump intake can be found.
Green Goddess fire engines were built during the Cold War in the 1950s and were designed to roll into action in the aftermath of a nuclear attack by the Soviet Union.
They were manned by civilian volunteers from the Auxiliary Fire Service (AFS).
In 1968 the AFS was disbanded and the Green Goddess fleet was put into storage and some were later sold off.
"First of all we have got to locate the bits and then we've got to raise money to pay for them," said Mr Saunders.
"We are talking over £1,000 worth of parts being taken.
"It's sad. We've worked hard for the last three years. We can't do what we'd like to do with the machine."