Jessica Bradford told she was 'too young' for cancer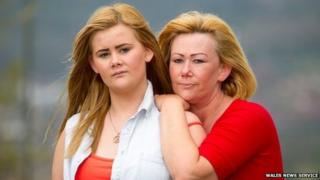 A teenage girl was told she had a common yeast infection by doctors who failed to spot she had cervical cancer.
Jessica Bradford, 18, said she was told she was too young to have the disease and had thrush.
But tests showed the teenager, from Rhymney, Caerphilly county, had a growth on her cervix.
The trainee hairdresser says she and her mother will now campaign to lower the age at which women in Wales are called for smear tests.
Miss Bradford's mother, Julie, 42, said her daughter saw the doctor as soon as she started experiencing symptoms, including bleeding.
"At first they thought it was thrush and gave antibiotics, then they said it was a bacterial infection," she said.
"After that they thought it was a sexually transmitted disease.
"She went back to the doctors about five times. They thought it couldn't be cervical cancer because of her age."
But after a series of tests, scans and biopsies, doctors confirmed she had cervical cancer.
Women in Wales aged between 20 and 64 used to be invited for NHS smear tests every three years.
But that changed in September when the age was raised to 24 years and six months.
Raising awareness
Miss Bradford and her mother are now campaigning for the age to be lowered to 18 in the hope other teenagers could be diagnosed early.
The trainee hairdresser has been juggling college with a five-week course of radiotherapy and chemotherapy at Cardiff's Velindre Cancer Centre.
She has been responding well to treatment but was left heartbroken to learn the treatment had left her infertile.
Miss Bradford said she is determined to beat the disease, finish her studies and open her own salon.
"But my other goal is to raise awareness about the importance of spotting symptoms and going to see a doctor early," she added.
"I also think they should reduce the age for smear tests to 18.
"My advice is just go to see a doctor soon as you get the symptoms and don't stop until they give you a definite answer."
The Aneurin Bevan Health Board, which covers the Rhymney area, said it was unable to comment on individual cases.
A spokesman added: "However, we would urge Jessica to contact us in order that any concerns she has in relation to her diagnosis or treatment can be properly investigated and the findings shared with her as soon as possible."