Thieves steal For Luca charity ride van and equipment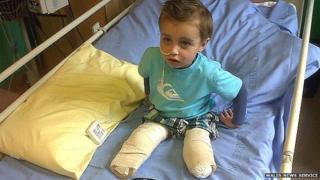 Five friends about to ride 1,000 miles for charity had the van containing all their kit stolen moments before setting off.
The group was cycling in aid of For Luca, a charity set up for Luca Williams, five, who lost both legs to meningococcal septicaemia in 2012.
They hoped to raise £1,000 to provide prosthetics for Luca, from Newport.
But after the news of the theft broke, donations flooded in and more than £6,000 was raised in 24 hours.
Adam Steed, Michael Keenan, Nick Louch, Rhys Jenkins and Toby Rattray, all 26, were taking pictures in front of Rome's famous Colosseum before setting off on their mammoth fundraiser to Paris, France.
But while posing for photographs on Saturday their locked van, containing four bikes, passports, money, a phone, equipment, supplies and luggage, was taken.
Luca's parents Mo Syed and Sian Williams posted the news on their Facebook page on Saturday evening and donations poured in.
Later they posted on the site: "Thank you all so much for the huge support and well wishes for the guys. We are still amazed they stayed after what happened and are determined to ride on tomorrow all being well."
The riders plan to set off for Paris, with new kit, on Monday evening.