851 homes plan for ex-Cwm Coke Works site in Tynant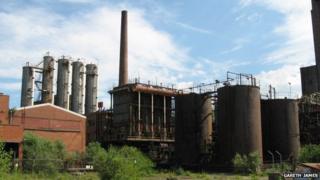 Up to 851 homes and a new school could be built on a former colliery site in Rhondda Cynon Taf.
CPL Industries Ltd wants to demolish Cwm Coke Works, colliery and tip in Tynant and replace it with a mixture of apartments and two, three and four bedroom homes.
The development would include a £5.2m primary school for up to 240 pupils.
About 60 construction jobs could be created during the building phase and 230 other jobs after completion.
The coke works closed in 2002 and the colliery, which at its height employed nearly 1,500 miners, shut in 1986.
A report to Rhondda Cynon Taf council's development control committee said the application represented a "potential opportunity to do a great deal of good" in dealing with derelict land and providing new housing on a key site within its local development plan.
It would cost more than £10m to clear and decontaminate the 89.3 hectare (220 acre) site, but its rare grade II-listed cooling towers would be retained, the report said.
The proposed homes would bring an extra 2,400 people to the area, which would increase local spending and attract businesses, it added.
Opposition
Four letters of objection were submitted to the council raising concerns over additional traffic, noise, and the impact a development of its size would have on local services.
CPL Industries Ltd looked into whether the site could be brought back into use as a coke works or the buildings could be converted for another purpose but neither option was considered viable, the report said.
An earlier plan to build 630 homes, commercial units and community buildings on the land was rejected on appeal to the Welsh government in 2007.
Outline planning permission for the most recent scheme has been recommended for approval and will be discussed by councillors on Thursday.