Nicole Reyes' conviction for Caribbean killing upheld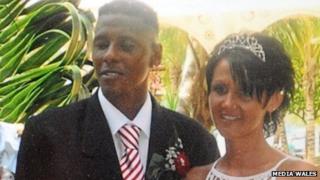 A Cardiff woman jailed for 12 years in the Dominican Republic for killing her husband has had her conviction upheld by the court of appeal.
Nicole Reyes, 39, was sentenced in February over the death of Jorge Quintanilla Reyes, 38, in July 2012.
Her trial heard he was knocked off his motorbike by Reyes, but she has always maintained it was an accident.
Her lawyer said he is now working on an appeal to the supreme court.
The mother-of-two, from Rumney, had appealed against her conviction of voluntary manslaughter over her husband's death.
Travel company rep
Reyes, who had spent more than 18 months on remand, claimed she accidentally hit her husband with her Toyota SUV as he rode beside her on his motorcycle.
On Tuesday, the Dominican Republic appeal court confirmed the conviction.
Her lawyer Eduardo Trueba said he expected the appeal to the supreme court to be heard this year.
Reyes moved to the Caribbean in 2004, with her two children, Leah and Luke, and her mother and father.
It was there that she met and married the former coconut seller, and found work as a rep with a holiday travel company.
Her parents and children moved back to Wales in 2007 but Reyes stayed on the island with her husband.