Cardiff fans say Vincent Tan must 'rebuild relationships'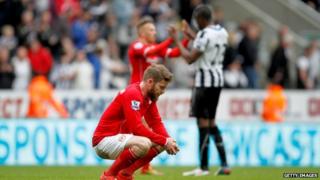 Cardiff City supporters have called on the club's owner to rebuild "severely damaged relationships" with fans.
The Bluebirds' relegation from the Premier League was sealed by Saturday's 3-0 defeat at Newcastle United.
Cardiff City Supporters' Trust said a new season gave Vincent Tan the opportunity to "wipe the slate clean".
He previously told BBC Wales the "vocal minority" who opposed him should apologise, adding that he was being portrayed as a "villain".
Cardiff City Supporters' Trust chair Tim Hartley said Mr Tan should bring back the club's traditional blue colours and badge.
But the Malaysian billionaire has already ruled out going back on his controversial rebrand which saw the main team colours change to red at the start of the 2012/13 season after 100 years of blue.
Mr Hartley said it was necessary for the owner to have "regular and meaningful" dialogue with fans and supporter groups.
'Thick and thin'
"If Mr Tan continues to ignore the wishes of its long-standing supporters, it is inevitable that protests will continue next season, deflecting from efforts to return to the Premier League at the first opportunity," said Mr Hartley.
"If Mr Tan has learnt anything from this season it is that he can no longer ignore his customers - the fans of Cardiff City, many of whom have followed the club through thick and thin over decades.
"We look forward to meeting Mr Tan at the earliest opportunity."
Mr Tan had put up to £150m into the club since 2010, according to Cardiff chairman Mehmet Dalman.
In an interview in February, Mr Tan revealed family members asked him to leave the club due to some criticisms levelled at him but he said "you have to be patient, accept the criticism and sometimes the insults".
"No matter how much good you do, there will always be a few per cent of people who don't support you," he told BBC Sport.