Upside down street sign in Pontypridd an 'error'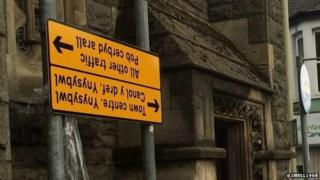 People in Pontypridd have been left bemused by a sign which was erected upside down.
Diversion signs have been placed around the town while £1m work begins on re-strengthening the 148-year-old Victoria Bridge.
But one sign which points to the town centre in one direction and other routes the opposite way has left people having to turn their heads to read it.
Rhondda Cynon Taf council blamed contractors for the error.
A spokesman said: "Contractors have erected a considerable number of signs in and around the vicinity over the weekend.
"However, on this one occasion, the contractor made a mistake, a mistake which was rectified at the earliest opportunity."
The picture of the sign was posted on Twitter by former RCT councillor John Bell on Sunday.
"I thought someone had played a prank, it looks like it was fitted with a cover on and fitted upside down," he said.
"It's unbelievable."