Abertawe Bro Morgannwg: Public inquiry call over care failings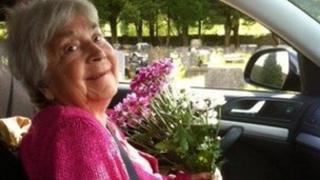 The son of a woman who died following neglect at two south Wales hospitals has called for a public inquiry after a review found "unacceptable" care standards in some areas.
The Trusted to Care review of Neath Port Talbot and the Princess of Wales hospitals found a number of failings in the care of elderly patients.
Lilian Williams, 82, died after being treated at both hospitals.
Her son Gareth Williams said the remit of the report was too narrow.
He told BBC Wales there was a "national scandal on a great scale than Mid-Staffordshire" that still needed to be investigated at Abertawe Bro Morgannwg University Health Board.
Questioning the remit of the report, Mr Williams, organiser of the ABMU Victim Support Group, said it was too narrow because it focused on elderly care.
He said they had dozens of case studies which proved there had been problems in areas like paediatrics, surgery and maternity.
"There must be a public inquiry," said Mr Williams. "This is a cover-up of gigantic proportions and the Welsh government cannot put its head in the sand."
Mrs Williams, from Porthcawl, had been admitted to both hospitals a total of four times between August 2010 and November 2012, when she died.
Her family claimed she suffered "appalling" neglect.
The ombudsman who investigated her family's complaint was highly critical of her care, and called the case tragic.
Abertawe Bro Morgannwg University (ABMU) Health Board subsequently apologised and admitted the case had been "completely unacceptable".
The Trusted To Care report said: "ABMU has not at any point been 'another Stafford'. But no one should be in any doubt that there are aspects of the care of frail older people which are simply unacceptable and must be addressed as a matter of urgency through action by the Board of ABMU and by the Welsh government."
Mrs Williams' family made their first complaint about her care after she was admitted to hospital in 2010,
Mr Williams described her treatment as appalling, saying she was left with no food or drink for several days at a time and became too weak to lift a glass of water.
"We sat by her bedside until her tongue swelled up and cracked and her lips split open for want of hydration," she said.
"She became delirious at first, then barely conscious, almost coma-like."
The hospital promised to carry out a protection of vulnerable adults investigation (Pova), but it was never done.
She was readmitted to hospital in 2012 and similar problems occurred, and there was also a failure to care for a partially-amputated leg.
A Pova investigation was carried out this time after concerns were raised with social services and recommendations were put in place, but when Mrs Williams went to Neath Port Talbot hospital later that year there were similar issues.
She was transferred to the Princess of Wales Hospital and died in November 2012.