RCT council leader Anthony Christopher dies after illness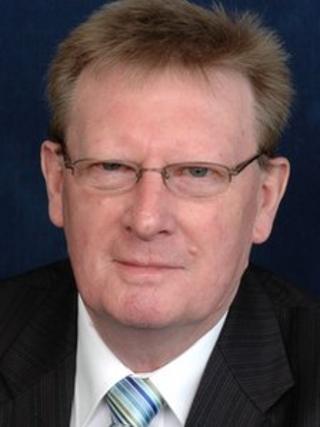 Tributes have been paid to a council leader who has died after an 11-year fight against leukaemia.
Anthony Christopher, 67, became leader of Rhondda Cynon Taf council in May 2012 and was the councillor for Aberaman North for more than 25 years.
He died at Mountain Ash Hospital on Wednesday.
Cynon Valley MP Ann Clwyd described Mr Christopher as a fighter, both against his illness and in his political career.
"I am deeply saddened by this news and the loss of someone who dedicated so much energy and commitment to local politics and public service," she said.
"Anthony will be remembered for his hands-on approach to everything he was involved in or responsible for.
"I consider it a privilege to have worked alongside Anthony as a colleague during my 30 years as Member of Parliament, for his friendship and total support in tackling the issues of the day we have confronted together on behalf of the Cynon Valley over the years.
"Anthony was always a fighter - he had no choice other than to demonstrate this as he dealt with his illness in recent years, but he also displayed the same fighting spirit in his political career, be it through his involvement in the trade union movement, standing up against the government of the day during the miners' strike or as a councillor standing up for Rhondda, Cynon and Taff Ely and for his constituents.
"This fighting spirit will most of all be what Anthony is remembered for."
Mr Christopher previously served as deputy leader of the council, and other roles included deputy leader of the opposition and chair of the audit committee.
He was also a member of the former Cynon Valley Borough Council.
Rhondda Cynon Taf mayor Ann Crimmings said he had given 100% to the council and his community throughout his illness.
"His determination, commitment and dedication to his role as leader and previously as deputy leader set an example to all of us," she said.
"He tirelessly served his community of Aberaman North for over 25 years and his immense contribution to public service in Rhondda Cynon Taf and local government as a whole should be noted with pride by his family and friends at this very sad time.
"Anthony was not only an excellent council leader, to me he was also a very good friend and I will bitterly miss his support, guidance and friendship."