Ryanair returns to Cardiff Airport with Tenerife route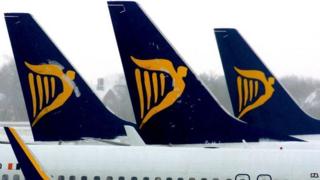 Budget airline Ryanair is returning to Cardiff Airport after an eight-year gap.
The Irish carrier has announced a new weekly route to Spanish island Tenerife which starts from 30 October this year.
Last month the airport announced a 9% increase in the number of passengers since it had been taken over by the Welsh government last year.
An airport spokesperson said it was "great to add another major airline like Ryanair".
Ryanair last operated flights from Cardiff in 2006 before it pulled the plug on its route between the city and Dublin.
The airline said it hoped the weekly Tenerife service would support about 15,000 passengers each year.
There are now hopes Ryanair will add other routes from Cardiff.
Cardiff Airport chief executive Jon Horne said: "We are delighted that Ryanair has chosen Cardiff as its 15th UK departure airport and see this as a major opportunity to increase choice for our customers.
"This development fits perfectly with our strategy to grow the number of low cost airlines and flights available from Cardiff."
Ministers bought the airport in March 2013 for £52m amid concerns about investment by its then Spanish owners.
An increase in passenger numbers followed, with the airport also undergoing a refurbishment of its terminal building.
New routes and carriers have been added recently including CityJet flying to Glasgow, Paris, Edinburgh and Jersey.
Edwina Hart, Minister for Economy, Science and Transport, said she hoped the Ryanair announcement would be the "springboard for many more Ryanair flights from Cardiff".
"Ryanair is a major player in this sector so for them to introduce a route at Cardiff will help to build the profile of the airport and attract new customers," she said.