Montgomery's interpreter Derek Knee dies aged 91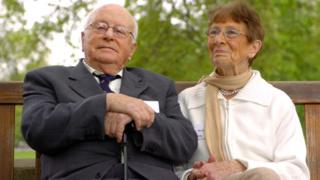 The man who was the interpreter for Field Marshal Montgomery at the German surrender in May 1945 has died aged 91.
Derek Knee was a 22-year-old captain when he spent two days at Luneburg Heath as Montgomery demanded the Nazis' unconditional surrender.
Mr Knee, the last survivor of the negotiations, was then sent to arrest Admiral Donitz - Hitler's successor.
Originally from Cheltenham, Mr Knee retired to Barry, Vale of Glamorgan in the 1980s.
An obituary in the Daily Telegraph reports how his suspicions that the Allies had a spy in the German High Command was later revealed to be the code-breaking intelligence gathered at Bletchley Park.
He also saw the body of Heinrich Himmler, who having been taken to Luneberg to be identified, committed suicide.
As a young man, Mr Knee had been a student of French and German at Cambridge University before becoming caught up in the war.
His speciality role in intelligence was to identify the German units facing the Allies as they pushed inland after D-Day.
The German delegation at Luneberg said they did not have the authority to sign an unconditional surrender document.
Russians
As negotiations ground to a halt, Montgomery provided the Germans with a generous lunch, including wine and brandy, to prepare them for returning to their HQ and reporting back Donitz.
After the lunch, with Mr Knee translating, Montgomery used maps to show the German's the hopelessness of their position and the extent to which the Russians were also bearing down on them from the east.
"They came back on the second day with an extra delegate and said that Doenitz had agreed," Mr Knee told the BBC in 2005, the 60th anniversary of VE Day.
Mr Knee had two sons with his wife, Margaret, who he married in 1947, and who predeceased him.