Cardiff scale model hopes to attract investors to city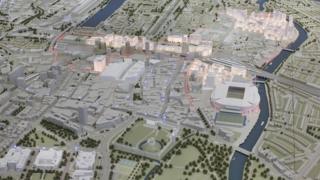 A scale model of Cardiff has been produced, which it is hoped will attract investors to Wales' capital city.
The 1:750 scale model measures 6.5m x 5.5m, (21 ft x 18ft) and includes 20 detailed replicas of landmarks such as the Millennium Centre.
It depicts 18 sq km (seven sq miles) of the city and was commissioned by Cardiff Business Council (CBC).
Rob Jones, one of those behind the model, said it has a real "wow" factor.
"This model will help us show potential investors the breadth and scale of the exciting developments which are coming on line in Cardiff, and will be a focus for promotional activity which will have people talking about it long after they have seen it," added Mr Jones, from property agents, Knight Frank LLP.
CBC is an arm's-length company set up by Cardiff council to encourage investors and promote the capital.
Millennium Centre inscription
Chairman Nigel Roberts said: "Our job is to drive and shape the continuing economic development of the Cardiff Capital Region, promoting it as a preferred destination for business and tourism through a programme of events in the region, London and in key territories around the world."
The model was made in 25 sections, on plywood.
Computers and lasers allowed its makers to build it to scale using layers of acrylic sheets, and it can be updated to reflect new developments.
The model replicates the city from the Bristol Channel and Cardiff Bay in the south, to Sophia Gardens in the north.
East to west, it stretches from the International Sports Village to the edge of the Central Cardiff Enterprise Zone.
Details on the Millennium Centre include the building's famous inscription fully lit, and Cardiff Castle has a clock tower described as "the size of a pepper mill".
Anyone viewing the model can navigate around the city using a touch-screen which displays information and statistics about areas.
It was made by Cardiff firm Modelmakers, and a permanent home has yet to be found.