Merthyr Rising marked in town 183 years after historic event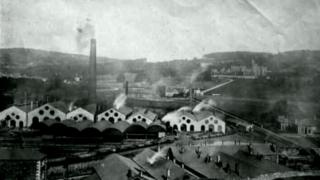 One of the earliest organised actions of industrial workers in Britain has been celebrated in south Wales.
The Merthyr Rising 183 years ago was sparked by anger at low pay, debt and appalling working conditions in the iron works and mines of the town.
Organisers say the festival marks the town's proud history of radicalism and creativity.
Social historian Val Williams said some of the issues in 1831 are still relevant today.
"It turned into an event that terrified the government, that had huge political repercussions and had an impact of the psyche of the working classes that I think still goes on," she told BBC Radio Wales.
Super Furry Animals' lead singer Gruff Rhys was among the guest speakers at the town's Soar Theatre.
In the 19th Century, Merthyr was already a hotbed of political unrest when rebellion broke out after ironmaster William Crawshay attempted to cut his workers' wages.
Miner Richard Lewis, better known as Dic Penderyn, was among a group of men faced by a line of armed soldiers when unrest broke out in Merthyr.
After a two-day trial for stabbing Private Donald Black, the 23-year-old was convicted and sent to the gallows in Cardiff although he was believed to have been made a scapegoat.