Girl, six, finds stolen dog through Facebook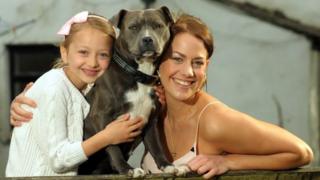 A six-year-old schoolgirl has been reunited with her stolen dog after using Facebook to highlight the theft.
Sixteen-month-old Ruby was stolen from the garden of the family's home in Pontcanna, Cardiff, in broad daylight.
Lola Wilson's page, Bring Ruby Home, about her Staffordshire Bull Terrier pet's theft, was shared 25,000 times in just 24 hours.
The family were told where the could find Ruby in an anonymous call following the social media campaign.
The caller said the thieves, who used bolt cutters to break into the garden, had sold Ruby, and gave the buyer's address.
Lola's mother Roxanna, 30, said: "People were fantastic and thousands on Facebook helped find Ruby.
"Lola is now absolutely over the moon and ecstatic - she won't leave Ruby alone at the moment.
"She is my daughter's best friend. They get into bed together and have cuddles, they're inseparable."
Ms Wilson drove to the address given in the call and picked up Ruby, who was unharmed.
She said: "We are so happy and grateful. There are so horrible people out there - but this shows there are lovely people to."
A South Wales Police spokesman said: "We are investigating in relation to a theft of a dog."