Charging plans for breakfast clubs in Monmouthshire stalled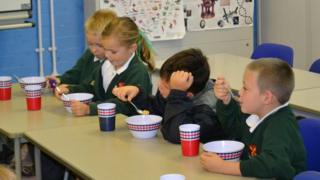 Plans to start charging children who attend Monmouthshire school breakfast clubs have been halted for now.
Pupils are offered breakfast free of charge at primary schools across Wales under legislation from the Welsh government.
But the Conservative-led council was considering charging for what it calls the childcare element of the service.
However, the plans have been dropped until more information is gathered about the proposal.
The Welsh government said charges could be permitted for a separate childcare session provided before breakfast, but attendance at the breakfast session should be free of charge.
After a trial scheme began in 2004, free breakfast clubs were rolled out across primary schools in Wales in 2007 as a means of boosting attendance and attention in the classroom.
Monmouthshire has 26 primary school breakfast clubs operating from 08:00 to 09:00 daily.
'Underpinned by legislation'
A report to the council suggested a charge of £1 per pupil per day be introduced to go towards the staff costs of running breakfast clubs, with no charge for children receiving free school lunches.
But the proposal was temporarily withdrawn, and will not be discussed until more information was gathered on the possible changes.
The report pointed out that while the food costs around 30p per breakfast, staff costs are around £10 per hour.
It added that a £1 charge for the breakfast club would be a "cost effective" way for parents to receive childcare, citing an average hourly rate of £4 for child minders.
It predicted the charge would raise an estimated £169,000 over 12 months towards the £185,000 currently budgeted for the scheme.
Cllr Liz Hacket Pain, cabinet member with responsibility for education, said: "We have asked for more information before we consider this proposal further. We are very mindful of the most vulnerable in our communities and we want to be sure of any impact this might have."
The Welsh government said it gave councils £14.7m a year to run the free breakfast scheme.
"Local authorities now receive funding for the scheme directly through their Revenue Support Grant, and the duty to provide free breakfasts is underpinned by legislation," a spokesperson said.
"Maintained primary schools that don't already participate in the free breakfasts scheme can request the provision by writing to their local authority.
"Free breakfasts should normally be delivered in a short period before the start of the school day.
"A school (or childcare provider based in the school) might provide wraparound childcare before the start of the breakfast session, and charge for this service.
"However, children who do not attend wraparound childcare are still entitled to attend the free breakfast session."