Stolen pedal car finds its way back to Wiltshire from Wales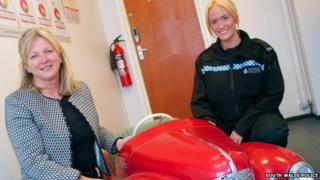 A family from Wiltshire have been reunited with a rare, collectable pedal car after it was found during a drugs raid in south Wales.
The shiny red Austin J40 car was seized by officers in Aberdare after it was stolen in a burglary last year.
PC Myfanwy Beaumont set about trying to find the rightful owners and after two months she was successful.
The car is 5ft 3 inches (1.6m) long and weighs just under 50kg and has been in the same family for 50 years.
Owner Kate Marment drove 145 miles (230km) from her home in Heytesbury to Merthyr Tydfil police station on Wednesday to collect the family heirloom.
PC Beaumont, said: "When we came across the car we'd never seen anything like it - we knew straight away it was cherished by somebody somewhere, and we suspected it had been stolen.
"I was desperate to find the owner, and am delighted to be the one to hand it back to the family where it will be so well looked after."
Ms Marmant said she thought she would never see the car again.
"It is our pride and joy, a family heirloom which has been passed down through and enjoyed by generations," she added.
"I'd like to thank PC Beaumont for her tenacity and determination to find us. She understood what it means to us and we are very grateful."
An investigation into how the car ended up in the Cynon Valley is ongoing.
A 36-year-old man from Aberdare is on police bail pending further inquiries.