Jehovah's Witness Mark Sewell abused girls, court told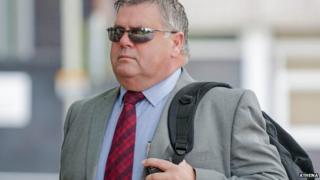 A senior Jehovah's Witness was a sexual predator who abused women and children for a decade, a court has heard.
Trusted church elder Mark Sewell, 53, of Barry, even made one woman pregnant but she later lost the baby, Merthyr Tydfil Crown Court was told.
Mr Sewell denies 12 counts, including sexually abusing two young girls, raping a woman, and indecently assaulting another.
One victim described Mr Sewell's alleged abuse as a "power-trip".
"He is a sexual predator who took opportunities available to him to satisfy his sexual desires." Sarah Waters, prosecuting, told the jury.
"For example, he would use his high position in the Jehovah's Witness congregation to act in a sexually inappropriate manner with women, being touchy-feely and insisting that he kiss them on the lips."
'Manipulate and bully women'
Between 1985 and 1995 Mr Sewell was a respected elder within the church in Barry, Vale of Glamorgan.
Ms Waters said: "The prosecution say that the defendant used his elder status to manipulate, intimidate and bully these women."
She said Mr Sewell abused one girl in the 120-strong congregation when she was aged between 10 and 15 but denied it when the girl's parents confronted him.
The abuse only stopped when the crying girl said she did not want him to touch her any more, the jury heard.
Ms Waters said Mr Sewell then told the little girl: "No one believes you so even if you go and tell anybody else now they're not going to believe you."
When she subsequently reported the alleged abuse to the Jehovah's Witness congregation, they held a hearing which saw three elders sit on a committee.
Mr Sewell is also accused of raping a female member of the congregation at his home in 1990 as she begged him not to.
The following day, said Ms Waters, he asked her what had happened the day before and said he had drunk a bottle of whiskey.
"She told him what he had done and he cried and got on his knees, begging for her forgiveness," he added.
Shortly after, the woman realised she was pregnant and Sewell, she claims, said he hoped the child would be a girl.
Ms Waters said: "A few weeks later she miscarried, which she described as a blessing in disguise."
One alleged victim, now in her 30s, said Mr Sewell had left her "terrified" and "frozen".
She said she was 10 when she said the defendant began abusing her.
"It was a strange feeling because it was like part of me knew it wasn't right but then because of how I felt about him, I looked up to him, I don't know why but I just let him do it," she said.
He denies seven counts of indecent assault against girls under 14 and three counts of indecent assault against a girl under 16.
Mr Sewell has also denied rape and indecent assault.
The case continues.