Families in Torfaen angered at grave memento removal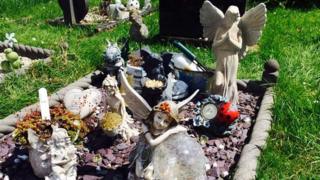 Bereaved families have hit out after personal items were removed from their children's graves and sent to landfill in Torfaen.
A county-wide cemetery clear-up has seen mementoes and other personal items removed in the past two weeks.
But parents said the council should have let them collect them and claim its policy has not been consistent.
Torfaen council said it had gone to "significant effort" to inform residents and apologised for any upset.
Rachel Jones, of Thornhill, Cwmbran, visited her daughter Libby's grave to find some solar lights had been removed.
"It's very upsetting because her twin sister and my other children often come down and place things down for her and then we have got to explain to them that these things are going missing and are being taken away," she said.
Gaynor Carr, whose baby son Andrew is buried at Panteg cemetery, said she was devastated to learn that mementoes she had placed at his grave had been disposed of.
'Significant effort'
"I said [to the council] 'what do you mean they have gone to landfill? In your regulations if you remove anything you have got to keep it for 28 days to notify us to collect it'."
But Dana Eynon, of Torfaen council, said it was "impractical" to store the items that were removed.
The authority said it organised the clear-up because the over-personalisation in some cemeteries had made maintenance difficult and some visitors had complained.
It said it was not possible to write to all those affected given the scale of the work across all its cemeteries.
Instead it gave grave owners two months to remove any non-authorised items they wished to keep.
But St Dials councillor Elizabeth Haynes said there had been "massive inconsistencies" in the removal of items and called for clarity on what is and is not acceptable.
Cllr John Cunningham, Torfaen council's executive member with responsibility for cemeteries, said he understood it was difficult to satisfy the personal needs of all cemetery visitors but said the rules were a necessity.
"Although we have made a significant effort to inform residents of our intentions, we apologise if applying the rules in this targeted manner has upset families," he said.