Patients return after University Hospital of Wales gas leak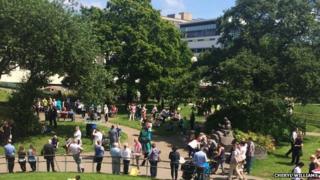 Patients have returned to their wards after being evacuated from Wales' largest hospital following a gas leak.
Patients were asked to leave the ground floor of the maternity unit and antenatal clinic at Cardiff's University Hospital of Wales.
A gas main was fractured by contractors working on phase two of the Noah's Ark Children's Hospital for Wales shortly before 11:30 BST.
By 13:30, Cardiff and Vale health board said clinics would run as normal.
A police cordon was set up following the incident, Heath Park Way was closed and traffic diversions were put in place.
Father-to-be Ian Johncock said about 100 parents and babies were evacuated to the hospital's concourse.
"They did it very well," he said.
Mr Johncock and his wife - who are expecting their first baby - were at the hospital for a scan. He said staff used the concourse as a "safe haven" and returned priority mothers to the wards first.
After patients were allowed to return, the health board tweeted: "Thanks to everyone for their patience while we sorted today's gas main problem. All back to normal and Heath Park Way has reopened. Phew!"
He said: "Patients are now safely returning to our women's unit following the earlier evacuation.
"Our clinics this afternoon will go ahead as normal and we continue to work closely with South Wales Fire and Rescue Service, South Wales Police and the utilities to manage the position appropriately and safely.
"We thank our patients and the public for their patience while the gas main issue is rectified."
Earlier, South Wales Fire and Rescue Service said crews were called at around 11.30 BST and gas detectors were used to confirm the leak.
A spokesperson said engineers from Wales and West Utilities had been called to assist.