Jeremy Bowen tweets about father Gareth's hospital care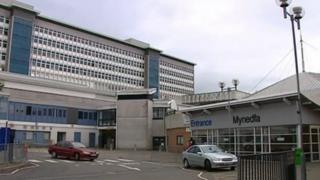 Health officials are investigating after BBC journalist Jeremy Bowen took to Twitter to raise concerns about his father's care at Cardiff's University Hospital of Wales.
He said Gareth Bowen, 84, himself a former BBC journalist, was not given any food or drink "in error" whilst having treatment for a chest infection.
Cardiff and Vale University Health Board said it was investigating.
Mr Bowen said his father had since returned to his care home in Cardiff.
BBC Middle East editor Mr Bowen, who is visiting Cardiff on Monday, tweeted on Sunday: "Univ Hospital Wales didn't give my 84 yr old father food & water when there with chest infection. In error was 'nil by mouth.'"
Later, he told his 85,000 Twitter account followers: "My father now back at his care home in Cardiff after my brother and sister realised what was happening."
A spokesperson for Cardiff and Vale University Health Board said: "We are very sorry to hear of the concerns outlined in Mr Bowen's tweet and an investigation into the very serious issue he raises is already under way. We are, therefore, not in a position to comment further at this time."