World War One poets' battle restaged in wood as play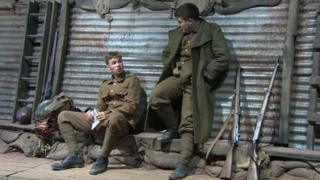 The trenches of World War One have been recreated in a Monmouthshire wood for an open-air play marking the centenary of the conflict.
Mametz tells the story of one of the bloodiest battles of the Somme in 1916 in which 4,000 men of the 38th (Welsh) Division were killed or injured.
The National Theatre Wales production is based on a poem by Owen Sheers.
The writer said he was inspired by the war poets who faced the enemy alongside his great-great uncle William Cross.
Siegfried Sassoon and Robert Graves were among those involved in the battle of Mametz Wood.
But Sheers said his main inspiration was the Welsh poets who were there - David Jones and Llewelyn Wyn Griffith.
"They wrote in very different styles but both wrote wonderfully about that battle and part of the inspiration behind this play is to shine a light back on their work," said Sheers.
The poet said it was important that the National Theatre Wales production should be "site-specific".
"I wanted to evoke a trench in a field in a wood and I wanted to put the cast and audience in it," he said.
The play is being staged at Great Llancayo Upper Wood, near Usk.
"Some of the troops who fought there were from this countryside," added Sheers.
"When you visit France what strikes you now is that those killing fields have always been and are now agricultural fields.
"So there's something about the melding of the farmland, this nurturing of nature, with this horrific story - especially in the case of the wood - with a destruction of nature."
The play runs until Saturday 5 July.