Monmouthshire breakfast club charge plans on hold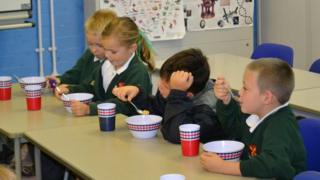 Plans to charge for children who attend school breakfast clubs in Monmouthshire have been put on hold.
Pupils are offered a free breakfast at primary schools across Wales under legislation from the Welsh government.
But the Conservative-led council wanted to charge for the "childcare" element of the service.
They have since referred the plans to the council's scrutiny committee over the potential impact introducing the policy may have.
The Welsh government had said charges could be permitted for a separate childcare session provided before breakfast, but attendance at the breakfast session should be free of charge.
Free breakfast clubs were rolled out across Wales' primary schools in 2007 to boost attendance and concentration in the classroom.
Monmouthshire has 26 primary school breakfast clubs operating from 08:00 to 09:00 daily.
A report to the council suggested charging £1 per pupil per day to help cover staff costs, excluding children who receive free school lunches.
It had said a charge would be a "cost effective" way for parents to receive childcare, compared to an average hourly childminder rate of £4.
But in a statement, the council said: "On the instructions of the cabinet, it was withdrawn from the agenda before the meeting.
"Cabinet were concerned at the potential impact of the policy and requested more information from officers.
"They also expressed the view that it should be discussed by the relevant council scrutiny committee before it could be considered by cabinet.
"The issue was therefore not discussed and did not become council policy."