Jehovah's Witness Mark Sewell guilty of rape and sex abuse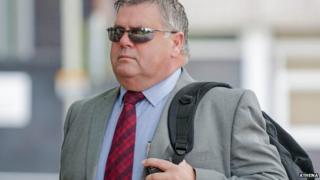 A Jehovah's Witnesses church leader has been convicted of historical rape and sex abuse charges against women and girls.
Mark Sewell, 53, from Barry in the Vale of Glamorgan, had denied nine charges spanning more than eight years.
But the jury at Merthyr Tydfil Crown Court convicted him of eight counts, including one of rape.
The judge told Sewell to expect a "very substantial" jail term when he returns to court for sentencing next week.
The jury returned unanimous guilty verdicts on five counts indecent assault against two young girls following more than nine hours of deliberation.
They also found him not guilty of one count of indecent assault.
'Sexual predator'
The jury later convicted Sewell by a majority verdict on one count of rape and two of indecent assault.
The court had heard how Sewell used his "position of power" as an elder in the Barry congregation to "exploit and abuse" women and children.
Prosecutor Sarah Waters said he had used his influence "to perpetrate such sexual abuse over a number of years for his own sexual gratification".
At the start of the trial, she said: "He is a sexual predator that took opportunities available to him to satisfy his sexual desires."
Between 1987 and 1995 the court was told Sewell abused two young girls, indecently assaulted a woman raped a fellow worshipper.
The woman later miscarried.
Remanding Sewell in custody ahead of sentencing next Wednesday, Judge Richard Twomlow said the defendant had assaulted two "young and vulnerable teenagers".
By abusing the girls, who also followed his faith, he was guilty of a "gross breach of trust" of his position as a church elder.
The abuse was not "confined" to those girls alone, the judge added, after Sewell carried out the rape and indecent assault.
"By a combination of bullying, bluster and hypocrisy you managed to avoid being brought to account for this utterly disgraceful behaviour for many years.
"Fortunately the jury were not fooled by you and you now face a very substantial prison sentence."