Bargoed court house reopens as town hall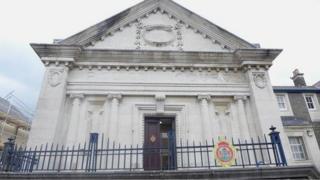 A century old police court house in the south Wales valleys is being given a new lease of life as a town hall.
The listed building in Bargoed, near Caerphilly, has had little use since it closed as a magistrates' court in 1997.
Bargoed council leader Tudor Davies said they were pleased to be able to save an "iconic" building.
Gwent police and crime commissioner (PCC) Ian Johnston said: "It's great to see life injected back into the old police court again."
Built in 1904, the courthouse in Hanbury Road had been the home of Bargoed Magistrates Court until its closure in 1997.
It had been used by officers at the adjacent police station since then, but Mr Johnston decided to lease the space to another organisation which could put it to better use.
Bargoed Town Council was seeking a new home closer to the centre of the community so a deal was struck.
'Delighted'
"Police stations play an important role in reassuring the public but we can make more effective use of the spaces available at some of our stations and breathe life back into our buildings by forging partnerships such as this one," said Mr Johnston.
"I'm delighted that we were able to accommodate Bargoed town council and provide them with a centralised base in the heart of the community they serve.
"The rental yield is also circulated back into the estates pot which helps towards the upkeep of our stations and properties throughout Gwent."
Bargoed town council leader Tudor Davies said: "The court building is an iconic part of the history within Bargoed and we at the town council are delighted to have secured the building for future generations."
The revamped building, renamed Bargoed Town Hall, will be officially opened on Saturday with a chance for people to look around between 12:30 to 15:00 BST.
It will then be open every Wednesday between 10:00 and 16:00 BST.
Bargoed police station was closed to the public in 2012 but remained a working base for police officers.