Gross failures over meningitis death of Thomas Smith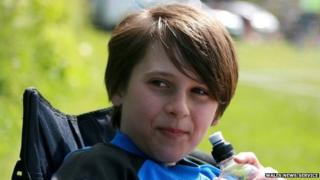 A hospital made "gross failures" over the death of schoolboy given paracetamol instead of antibiotics for meningitis, a coroner has ruled.
Thomas Smith, from Hednesford, near Birmingham, was on holiday when he was admitted to Prince Charles Hospital, Merthyr Tydfil, with six meningitis symptoms.
An inquest has heard doctors failed to diagnose the illness and start him on antibiotics for more than four hours.
He died on his 13th birthday last May.
Coroner Christopher Woolley has ordered a report to prevent similar deaths taking place at Prince Charles Hospital.
Mr Woolley criticised the hospital for failing the schoolboy in their duty of care.
He said: "The failure to administer antibiotics does amount to a gross failure of care.
"Antibiotics should have been given without delay.
"Where meningitis is suspected it's essential antibiotics are given immediately. The need for basic medical attention in this form was obvious.
"The risk of giving unnecessary medication was outweighed by the risk of Thomas having bacterial meningitis."
When Thomas, who had a history of migraines, was taken ill he was taken to an out-of-hours GP before being referred to Prince Charles Hospital.
He was fast-tracked by nurses who were concerned about the boy who was in "the worst pain of his life".
He was seen by Dr Kwong-Tou Yip and consultant paediatrician Dr Ezzat Afifi who both gave him paracetamol.
Thomas eventually fell into a coma and was taken to intensive care at the University Hospital of Wales in Cardiff. He never recovered.
Cardiff Coroner's Court heard how both Dr Yip and Dr Afifi had "failed in their duty of care" for Thomas.
But Coroner Christopher Woolley said it was not a case of neglect, and even if Thomas had been given antibiotics he would probably have still died.
He recorded a conclusion of natural causes.
Chief executive of Cwm Taf University Health Board Allison Williams apologised in a statement to Thomas' parents and admitted there were failings.
"A number of changes have already been made to address the failings identified," she said.
"Following the conclusion of the inquest, the health board will now consider the coroner's findings and continue to implement the changes required to address any failings in service."