Cardiff Jihadists' assets frozen by Treasury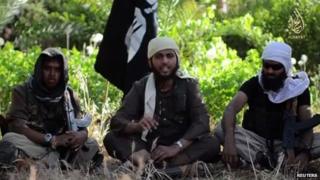 Two men from Cardiff who are believed to have joined a jihadists group in Syria have had their assets frozen by the UK government.
Nasser Muthana and Reyaad Khan, both 20, are on a list of people facing Treasury sanctions.
A third man from Aberdeen, Ruhul Amin, has also been named on the list.
Mr Muthana's brother Aseel, 17, is also understood to be in Syria. In an online conversation he told BBC Wales he is willing to die for the cause.
Mr Muthana and Reyaad Khan appeared in an online video filmed in Syria apparently urging Muslims to join Isis (Islamic State in Iraq and the Levant).
On Thursday a man claiming to be Nasser Muthana posted pictures of home-made bombs on a social media account.
It showed around 15 home-made bombs packed inside metal containers with the message: "So the UK is afraid I come back with the skills I've gained".
The brothers' father Ahmed Muthana, 57, has said he wants his children to come home even if they are imprisoned on their return.
He told BBC Wales he was "heartbroken" to see his son involved in a Jihadist recruitment video and later claimed police had failed to win the trust of Welsh Muslims.
That was denied by the head of Wales' counter-terrorism unit South Wales Police Assistant Chief Constable Nikki Holland.
She said police could not monitor everybody, but said she did not think Cardiff had any greater problem than anywhere else in the UK.
Meanwhile, a teenager arrested on suspicion of terrorism offences, which police said may be linked with the Cardiff jihadists, has been bailed.
South Wales Police said the 18-year-old man from Grangetown had been questioned over claims of assisting in the preparation of an act of terrorism.