Killer whale sculpture in Caerphilly Castle moat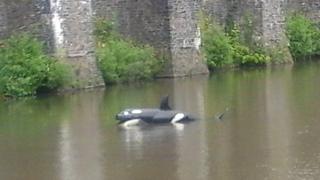 Visitors to a south Wales castle had to do a double take after a killer whale was spotted in the moat.
Caerphilly Castle's latest resident is a sculpture which has been installed as part of a show at the town's Y Galeri.
Created by sculptor Barry Lewis, the installation is made entirely from satellite dishes, recycled cutlery and solar panels so it illuminates at night.
The Metalmorphosis exhibition runs from Tuesday until 16 August at the gallery.