Capt Mark Gold saved woman 'rolled into river like log'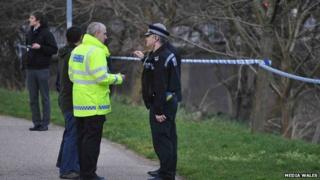 A soldier has told a court how he saw a woman being beaten by two men before they rolled her into a river "like a log".
Capt Mark Gold, 43, was with his family by the River Taff in Cardiff when he saw Leanne Ware, 31, in the water.
He fought off her attackers and ran into the freezing river to save her, Cardiff Crown Court has been told.
Miss Ware's partner Martin Edwards, 43, of Cardiff, and friend Gary Pincott, 55, of Barry, deny attempted murder.
Capt Gold gave Miss Ware, who was blue and unconscious, CPR before paramedics took her to hospital.
On Tuesday, he told the jury he saw Mr Edwards roll his girlfriend into the water with his feet and Mr Pincott pushed her with his hands.
"She rolled into the river like a log," he said.
"She didn't even try to fight, she just disappeared under the water."
The father-of-three, who has served for 21 years in the Royal Army Medical Corps, ran down to the riverbank.
"A man I now know is Pincott ran past me away from the river," he said.
"He wasn't screaming for help, he was trying to get away."
Miss Ware suddenly "bobbed" to surface but was face down and not moving, he said.
Capt Gold thought Mr Edwards was trying to rescue his girlfriend, but he did not.
"He place his hand on the back of her head and pushed her beneath the water and she disappeared again," he said.
Miss Ware's limp body returned to the surface downstream and became caught on the riverbank, where Mr Edwards allegedly tried to drown her again.
"Not once did he try to bring her head out of the water," Capt Gold said.
"I grabbed hold of her hair and he (Mr Edwards) began striking me and I remember trying to defend myself with my free hand."
The court heard Mr Edwards only stopped his attack after Capt Gold screamed at him that Miss Ware was dead.
"She was blue, not moving and had no pulse. She was dead," he said.
"She had been under the water for close to three minutes and there were no signs of life."
The trial continues.