Jogger resuscitated Leanne Ware after river attack, court told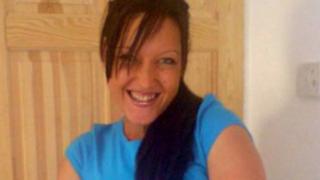 A doctor out jogging resuscitated a woman after she was pulled out of a city centre river, a court was told.
Dr Hannah Hetherington, 34, heard shouts for help before seeing a man, Capt Mark Gold, 43, haul the lifeless woman from Cardiff's River Taff.
The soldier helped Leanne Ware, 31, after seeing her attacked by two men in the river, Cardiff Crown Court heard.
Miss Ware's partner Martin Edwards, 43, of Cardiff, and friend Gary Pincott, 55, of Barry, deny attempted murder.
The court heard that Capt Gold had fought off Mr Edwards and Mr Pincott after they had attacked Miss Ware, and screamed for help as Dr Hetherington was jogging past.
Dr Hetherington said: "I followed the shouts and asked what had happened. Mark said his children had seen two men beating up a woman and they had thrown her in the river.
"He pointed to one of the men who was stood in the river and said: 'He was holding her under'.
"He was checking for a pulse but there was no pulse. She looked like someone who had recently gone into cardiac arrest.
"She wasn't breathing, she was unresponsive, her eyes were open and she was very white."
The doctor performed mouth-to-mouth resuscitation on Miss Ware while Capt Gold carried out chest compressions, the jury was told.
She told jurors she saw blood matted in Miss Ware's hair from the attack and there was vomit around her mouth.
"After a while she began spluttering and water came out of her mouth and nose, and we put her on her side," she said.
Capt Gold told the jury Miss Ware had been under the water for close to three minutes and there were no signs of life.
Paramedics arrived at the scene and she was taken to hospital where she made a full recovery.
The court has previously heard how Capt Gold went to Miss Ware's rescue as she was attacked by Mr Edwards and Mr Pincott.
It was claimed the pair rolled her body into the river "like a log" and tried to drown her but Capt Gold ran into the river to fight off her attackers.
Mr Edwards denies attempting to murder Miss Ware and a charge of common assault against Capt Gold. Mr Pincott denies attempted murder.
The trial continues.