Lover Gillian Clemo's fake will conviction quashed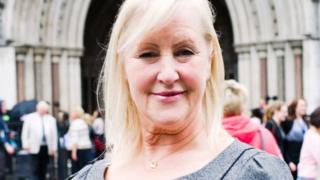 A dead estate agent's girlfriend found guilty of using a forged will to stop his estranged wife inheriting his £3m fortune has had her conviction quashed.
Gillian Clemo, 61, of Cardiff, denied using a false document to deprive Helen John of a share of Chris John's estate.
It was claimed Ms Clemo was not trusted to look after Mr John's 13-year-old daughter's inheritance when he died.
The Pontcanna-based estate agent died suddenly in 2008 after suffering a brain haemorrhage.
In 2011, Ms Clemo, of St Fagans, was convicted at Newport Crown Court of using a false will and handed a fine and court bill of more than £8,000.
But on Thursday, the Court of Appeal overturned the conviction after another copy of the disputed will was found, hidden in a London storage unit.
"This was always a weak case, which got worse in the light of the new evidence which came to light," said Christopher Coltart QC, defending.
"She has waited a long time for this day to come."
The court heard Ms Clemo began a relationship with Mr John, a millionaire estate agency boss, in the late 1990s and moved into his Llandaff home.
Both he and Mrs John believed their divorce had been finalised in 2001, but it was only after his death that they realised the decree absolute had never been pronounced.
It meant his assets would be split between his long-estranged wife and daughter Isabelle.
Within days, a will was found purporting to hand Mrs John their former matrimonial home and with the bulk of the estate going to his daughter when she turned 27.
'Unsafe conviction'
But it was claimed a forger had been practicing the signature on top of the document because of a spelling mistake and indentations on the document.
However, another copy of the will was found in a holdall by Mr John's sister, Melissa, and experts said the indentations were caused by Mr John signing the new will while it was lying on top.
"Evidence has now emerged which appears to us to add materially to the case advanced by the defence at trial," said Lord Justice Treacy.
"It does lead us to the firm conclusion that this conviction should be regarded as unsafe.
Division of Mr John's assets was agreed in a confidential settlement at the High Court last year.