Christopher Parry jailed over murder of Caroline Parry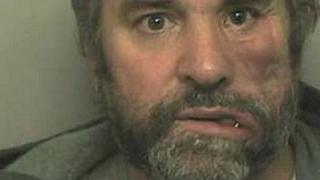 A man who murdered his wife by shooting her in the back after she left him has been jailed for a minimum of 26 years.
Christopher Parry, 50, shot mother-of-two Caroline Parry, 49, at close range near her home in Newport last August before turning the gun on himself.
Parry, from Cwmbran, described as a "controlling and dominant" individual, was found guilty of murder at Newport Crown Court on Wednesday.
He had denied murder saying he only meant to shoot himself.
Parry, visibly shaking in the dock, was jailed for life on Friday and told he will serve at least 26 years.
The court had heard the shooting was a carefully planned scheme by a man "not prepared to let go" after his wife had left him.
Sentencing Parry, the judge Mr Justice Wyn Williams said: "I'm satisfied that when you left the home you had a settled intention to kill your wife.
"You had loaded the gun with three cartridges and your actions were consistent with someone planning to kill.
"The killing took place in a quiet residential area [and] put great alarm and distress to people nearby.
"It was a terrible thing to do, to shoot your wife in that public place."
As Parry was led away, his mother ran to the dock and he said: "I didn't mean to do it."
On 8 August last year, Mrs Parry was shot after leaving the home she shared with her new partner in Newport.
Her estranged husband had been waiting for her in Seabreeze Avenue and took a semi-automatic shotgun from the boot of his car when he saw her.
He shot her twice in the back before shooting himself in a failed suicide attempt which left him with severe head and facial injuries.
Parry, who had a shotgun licence and kept three firearms at his home, was a driver for the Celtic Manor Resort in Newport.
The court heard he had a history of mental illness and depression dating back over 10 years.
After being discharged from hospital two months after the shooting, Parry was sectioned under the Mental Health Act.
The judge told him: "By your actions you have deprived your wife of her life, your daughter and son of their mother, and brought grief and unhappiness to very many people, and your own life is in ruins."
The judge said he accepted that Parry had developed a significant depressive illness as a consequence of his wife's departure.