War medals of soldier killed with son at Ypres for sale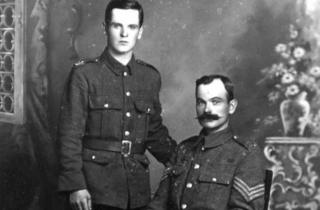 Medals belonging to a soldier killed in action alongside his son in World War One have been sold at auction.
Sgt William Pritchard, 42, from Mardy, Abergavenny, and his son Reginald, 19, died in the Second Battle of Ypres while serving with the 3rd Battalion, the Monmouthshire Regiment.
They are commemorated on the Menin Gate Memorial at Ypres, Belgium.
The medals went for more than triple the estimated price at £1,300, after their story was uncovered.
Auctioneer Chris Elmy said the story behind the medals had created a lot of interest for the sale, which took place on Saturday morning in Ipswich, Suffolk.
William Pritchard was a reserve soldier in the Volunteer Force with the South Wales Borderers before the war, serving with the "Monmouths" after war broke out.
He and his son were in retreat to defensive lines on 2 May 1915, during the second battle of Ypres, according to Mr Elmy.
"It was at the point where the Germans had just begun to use poison gas on their enemy.
"A German offensive forced British and Canadian soldiers into retreat, and on that day Sgt William Pritchard and his son were both killed," he said.
"The medals themselves aren't particularly rare, but it's the story behind them that makes the sale particularly unusual."
The whereabouts of Reginald Pritchard's medals are not known.
The Pritchards have no known graves but are commemorated on the Menin Gate Memorial to the Missing at Ypres.
Four medals - a 1915 Star Trio and an Edward VII Volunteer Force medal - along with a death plaque belonging to William Pritchard went under the hammer at the Martlesham Heath auction.
They had been expected to sell for £400-£450, having been put up for auction by a private vendor.
But when bidding ended on Saturday, they items had hit £1,300.
"There was a lot of interest in the medals, and it was the story behind them that certainly created that interest," added the auctioneer.