Concern over future of university's Caerleon campus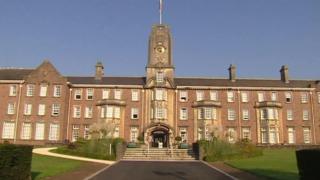 Concerns have been raised over the future of a campus at Wales' largest university.
It is understood there has been a drop in applications for some courses which are based at the University of South Wales' Caerleon site.
Dame Rosemary Butler, AM for Newport West, said she will be meeting officials about the issue.
The university said its governors are considering the future of the entire estate, not just the Caerleon site.
The University of South Wales (USW) was formed by the merger of Glamorgan and Newport universities last year when it became the country's largest higher education college.
Labour AM Dame Rosemary told BBC Wales she had been contacted by constituents who were asking questions that she could not answer.
Public consultation
"I am very concerned because the campus is not just in my constituency, it's actually in the village where I live," she said.
"It's got a very fine history. It is a big employer of local people. As well as students and lecturers, we've got the caterers and the cleaners and the whole range of jobs that are there that could be lost."
Dame Rosemary, who is also the Welsh assembly's presiding officer, said she has been told by USW that student numbers had been dropping at Caerleon.
She added that she and colleagues would be meeting officials from the university and also contributing to any public consultation.
"I will be obviously taking part in that because I am concerned that we shouldn't lose any courses from Caerleon if at all possible," she said.
"If, however, they decide that we will lose courses then we have to make sure that the city centre campus in Newport is secure and then see what happens to the campus in Caerleon."
Concentrate investment
A USW spokesperson said it had "inherited a mixed estate of both modern campuses and older, obsolete buildings needing substantial investment to make them fit for purpose".
"USW's board of governors is considering the future of the university's estate by looking critically at closely located campuses, exploring further as to how the university can concentrate its investment strategically on growth areas," they added.
The university confirmed it was considering how the university's provision might be reconfigured within the Newport area, including future expansion of the City Campus as part of the regeneration of Newport.
"This will include looking at options for resulting changes in use of the campus at Caerleon."