Train tracks warning for Cardiff University students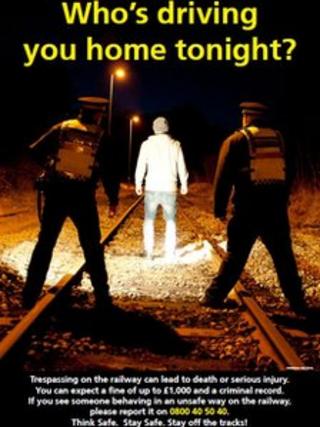 University students are being warned not to use railway lines as shortcuts home following the death of an 18-year-old who was hit by a train.
William Paynter, 18, was trying to use the railway as a shortcut to his halls of residence after a night out.
Following his death in January, police discovered students often used the same stretch of railway at Adamsdown.
Now warning posters have been produced as students across the city prepare for their graduation.
Mr Paynter's inquest last month heard the first-year chemistry student, from Hengoed, Caerphilly county, was trying to make his way back to university halls at around 03:00 GMT.
He was struck by a freight train travelling at up to 60mph and suffered massive head injuries. He died in hospital four days later.
The warning campaign is a partnership between British Transport Police (BTP), Arriva Trains Wales and Cardiff University.
BTP Police Community Support Officer (PCSO) Joshua Hopkins, said: "Following January's tragic incident, we became aware that students were using the railway as a route home after nights out in Cardiff city centre.
"Clearly this is an extremely worrying practice that we are anxious to prevent.
"Working with the university and other partners, we hope the campaign will ensure students are fully aware of the very real dangers and legal consequences of trespassing, with the ultimate aim of preventing any such tragedy from occurring again."
Cardiff University's pro vice-chancellor for student experience and academic standards, Prof Patricia Price, said: "This campaign is especially timely as we look forward to this week's graduation ceremonies when, quite rightly, students from across the city will be out celebrating their achievements.
"However, despite the obvious dangers, and the fact they're committing a criminal offence and risking a hefty fine, we know some students risk injury or, at worst, their lives by taking a shortcut home along railway tracks."
The posters are going up at railway stations across Cardiff and at Cardiff University buildings.