Cardiff train station plans unveiled by Network Rail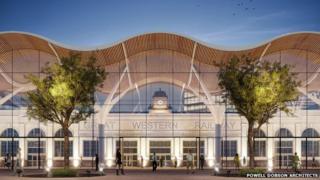 Plans for the biggest transformation of Cardiff train station since it was built in the 1850s have been unveiled.
It would see the front of the station being expanded outwards - towards where the new BBC building will be - and have a wave effect roof and glass frontage.
There would also be new retail space and a mezzanine floor while a new multi-storey car park and office space would be built at the back.
The work could start in 2020 to tie in with a predicted rise in passengers.
The release of the designs by Network Rail coincides with plans to revamp that area of the city centre.
With BBC Wales taking over the current bus station site in front of the train station, talks are being held by Cardiff council to examine two sites for a replacement bus station.
That could come in the form of a transport hub which would also be used by taxis, coach operators, cyclists and may possibly act as an interchange for the proposed city metro transport network.
Network Rail said investment in the train station is needed to accommodate growing passenger levels at the station which saw a 100,000 increase to just over 13 million, with numbers coming into Cardiff predicted to rise by 67% by 2023.
The project already has the backing of the Welsh government and Cardiff council.
But Network Rail will now work on a more detailed design and business case to submit its plans to the Department of Transport for inclusion in the next round of funding for major rail infrastructure projects - the so-called control period six from 2019 to 2024.
Network Rail Wales managing director Mark Langman said: "What we want to create is a destination in its own right rather like St Pancras in London.
"You will go there because it is actually a place you go to meet and not just for rail travel... in what would be a show-stopper development benefiting the capital city."