Sanctuaries rescue 50 horses at Manmoel Common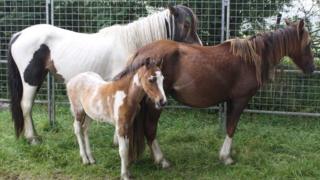 Animal sanctuaries have stepped in to re-home 50 abandoned and feral horses on a common in south Wales after more problems emerged.
Several animals died last year at Manmoel Common near Ebbw Vale and two councils have now taken possession of more horses considered at risk.
All are being found new homes in Carmarthenshire, Devon and Norfolk.
Caerphilly and Blaenau Gwent councils said it marked a positive result and the end of a year-long project.
The RSPCA last month reported a six-fold increase in the number of horses rescued in Wales over five years to 271.
It said there had been a "marked and very worrying increase in equine neglect and abuse".
The councils took possession of the 50 animals last week after serving notices of removal as they had been grazing illegally.
'Catastrophic equine crisis'
They have since been liaising with Hillside Animal Sanctuary in Norfolk, Carmarthen-based Lluest Horse and Pony Trust and the Mare & Foal Sanctuary in Devon.
A spokesman for Blaenau Gwent and Caerphilly councils said: "We are delighted these organisations have come forward to take possession of these horses."
Lluest took three of the animals on Friday - a mare with a young foal at foot and a gelding.
The horses will be quarantined before they are offered for fostering.
Lluest chair of trustees June Newman said: "The extent of the horse crisis in Wales is largely under the general public's radar but the simple fact that you can buy a colt for £2, less than a bag of chips, is a sign of the times."
Jonathan Edwards, MP for Carmarthen East and Dinefwr, said: "There is a catastrophic equine crisis here in Wales that needs our attention now."
The councils say many of the horses on the common had no known owners and there have been historic issues with lack of food, health issues and no breeding controls.
With the removal of the horses, they say the common should be able to support the remaining horses that have a legal right to graze,